"I want to commend the 3 professionals who installed my windows and door yesterday. Donnie, Josh and Dustin were very courteous, friendly and quick at their job. I wanted you to know how much I appreciated that, and I love my windows!"
"I would recommend your windows and quality of service to everyone. No question, Window World is the only way to go for the best and most affordable replacement windows! Excellent service!"
"... I have always believed that the company is only as good as the employees they hire and train. You have made corporate and employees equal and as a consumer I thank you all."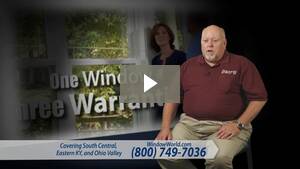 Welcome to Window World of East Kentucky, your local franchise to the largest window replacement company in America! Window World of East Kentucky is a locally owned & operated licensee of Window World, Inc., and proudly serves all of Eastern KY including London, Pikeville & much more! We offer almost limitless replacement window options, including frames, grids, styles, glass options, and Low-E qualifications. We also offer many other industry-leading home-improvement products, such as:
Window Styles
Replacement Doors
Other Products
Our superior line of products, as well as our top-of-the-line customer service has earned us many distinguished awards, including the coveted Good Housekeeping Seal, Energy Star Certification, and EPA Lead-Safe Certification. So next time you see a home with beautiful new windows in your London, Kentucky neighborhood, ask who installed them. The answer will probably be Window World of East Kentucky! Contact us today, to schedule your free in-home demo, your home will thank you!